1. I have written a show about fans, fandom, gender politics and
Doctor Who
- and
it's playing at Edinburgh Fringe in August
!
The show is about a woman who likes to dress up as male characters at conventions, including as Peter Davison's Doctor (see poster image below) and a guy she meets who doesn't think a woman should be the Doctor.
2. We're running an Indiegogo campaign to help with costumes, publicity and part of the venue hire.
And there's only 48 hours to go and we're a long way from our target
.
If you can help out with a little bit of money - or to spread the word in these final two days, I'd be really grateful.
We're putting a lot of time and money into the costumes, because that's what fandom would want! We also need money for posters, flyers and some for our venue.
Our final release poster:
We've had some great press from
Doctor
Who
blogs
,
Edinburgh press
,
Den of Geek
and today we were named one of the
"Top Australian acts at Edinburgh Fringe 2013"
.
I'm really excited for the show - and for the possibility of touring it later this year and next year. But we need funds to help! We're already planning Manchester in November and London late this year or early 2014. It's a two-hander and really portable; I can see it playing at Fringe festivals and Conventions all over the world!
The better reception we can get at Edinburgh Fringe, the better set we'll be for the future.
If you can make it to Edinburgh from Aug 14 to 26,
come along
! If not,
give a little money
and we might see you around.
Thank you!
A group of Doctor Who fans need your help.


I've recently had a re-watch of AVPP, The first time I have had a legal copy of Series 2, and nope I still haven't watched 'Polish', and am now half way thought my re-watch of Campion.

If any one want to join me in a discussion on those two gems from the 80's then I'm happy for the company. Or indeed anything else P.D. related, I have recently bought all 4 series of AHWTB so I will probably be attacking that beast soon.

Love and hugs to you all

Phe
Just a quick post from your fearless leader just to say I'm still alive and I hope that other den members are also well. :)
Location:

Home

Mood:

listless

Music:

The washing Machine
kshandra
A Very Peculiar Practice - The Complete BBC Series
(including
A Very Polish Practice
)
Region 2 only, but if you've got a region-free player, that won't be an issue.
EDIT, 11/05/12: After deleting no fewer than EIGHT spam comments on this entry in the past 36 hours, I am locking the post. This shouldn't be an issue for a year-old entry, but I wanted to note it for the record.
If you don't mind large images, I compared a few images from both Single DVD release and the special edition of the Fifth Doctor's serial Caves of Androzani, and posted an accompanying angst free
picspam
of the serial in the same entry
here at my LJ
.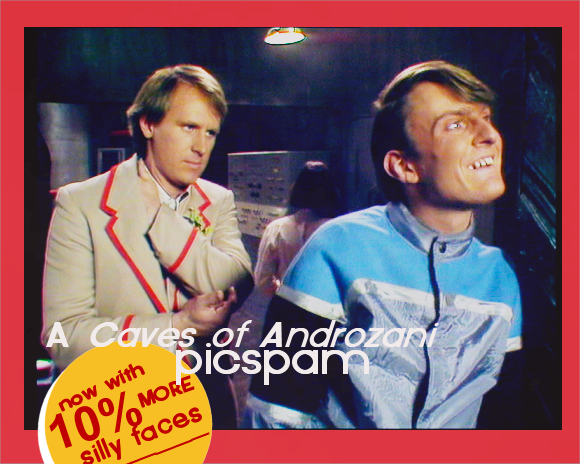 I also uploaded about 375 screencaps of the SE as a 7z archive. I you want them for whatever purpose, you can find the download links either at the bottom of the entry, or if you don't want to load the whole thing just for the links, I'll just repost them here:
due to filesize contraints on mediafire (and since I don't dare uploading large files thanks to my shoddy internet connection) I had to split the archive. Download all parts, re-join (with hj-split or the download manager of your choice), unzip and enjoy.
part 1
95 MB
part 2
95 MB
part 3
74 MB
these are completely unedited, in the original DVD resolution, saved as png files.
hi,
Mood:

dirty
I didn`t see this posted yet and I found the episode on youtube. Peter is obviously having fun playing a washed up fellow.
Mood:

tired


I started laughing at the sky bit and ended up gasping for breath at the end.

Hope you don`t mind me spamming you all today. Just having a Davison kind of day and must share!
Mood:

giggly
I say, what a jolly fun romp. Hunting for hidden history is always a ripping good time.
Location:

Gallifrey

Mood:

working

Music:

Campion theme song


I`m thoroughly enjoying these. The mysteries are very dense. I like how I cannot guess the ending at all.

"Look to the Lady" made me 0_o. I felt like I`d dropped halfway into the story. I suppose that was part of the plot. We discovered Campion along with the client. Also, it seemed like they were really pushing the quirks and oddities of Campion. I did like it even as I was asking What what WHAT!? Great scary bit with the enraged horse. Love the gypsy reassuring Campion that the horse would not kill him ... for 2 hours. LOL!

"Police at the Funeral" I rather enjoyed Lug and Campion pretending to be hardbitten policemen. Loved all the puzzley traps.

"The Case of the Late Pig" is pure eye candy. So many delightful suits and scenes of disarray and HATS!!! Also, I`m quite fond of how Campion hops in and out of his roadster. Lovely bit of schoolyard bully angst. I was curling up in a cringing ball worrying over my Campion getting drugged and knocked out. Thankfully he was ahead of the game as usual.

"Death of a Ghost". Campion is much more a man of action here. Also, the quirkiness is extremely toned down. Ooh wait, there was delightful bit in the conversation about Lug`s "servility" with Rosa. "I don`t think I could live with genuine carat servility, it`s too corrupting" "Lug go away. Your cover is blown, You`ve been unmasked as a human being" Oh noes! He`s been made drunk! Look out! The TRAIN! Hurrah! Oates was watching over him.

Lug is so much LOVE!

I really want to know more about Campion. Who is he? Why is he hiding under a pseudonyms? How did he and Lug form such an enduring partnership?
Hats! HATS! HATS!!
Mood:

sleepy
New member here.
I've had an absolutely marvelous time paging back through all your entries of Peter Love. Lovely caps everywhere! You inspired me to put holds on all the Campion and Last Detective DVDs at my library. And they're on their way! Squee!
I have a question for you All Creatures fans. I was reading my second Herriot omnibus,
All Things Bright and Beautiful
, today and read the scene where the Irish labourer enters the surgery and insists on James and Tristan treating his ear. Then Tris pulls a hilarious prank on the labourer involving a rather massive syringe. I've been chuckling all day. Is that scene in All Creatures? If so, can you point me to the episode in question? I'm assuming that it'd be in the first three seasons as this is early on in the books.
Thank you in advance
PS. That
superhero outtake of Peter and Chris and Rob
will never stop being funny.
Hello All.
Mood:

amused